Umbraco Uno: the latest addition to the line-up
Umbraco has recently added a new product to its line-up called Umbraco Uno. But what are the core benefits of the platform and how do you decide if it is the right choice for your project?
What is it?
Umbraco Uno is a SaaS (Software as a Service) product, which comes with a number of benefits.
Firstly, the hosting infrastructure set-up, platform installation and ongoing management of the solution is all taken care of. This includes automated upgrades, TLS (https) certificate management (Umbraco Latch) and platform support SLA all hosted on Microsoft Azure Cloud.
Secondly, it comes with all the tools you need to build a basic website without the need for any coding expertise. This includes a theme editor where you can adjust things like colours, layout, grid size-dimensions, and you can also configure the content and layout composition of your website by using a number of pre-defined widgets. This includes basic elements like content and image blocks as well as a handful of more functional elements like Instagram feeds and forms.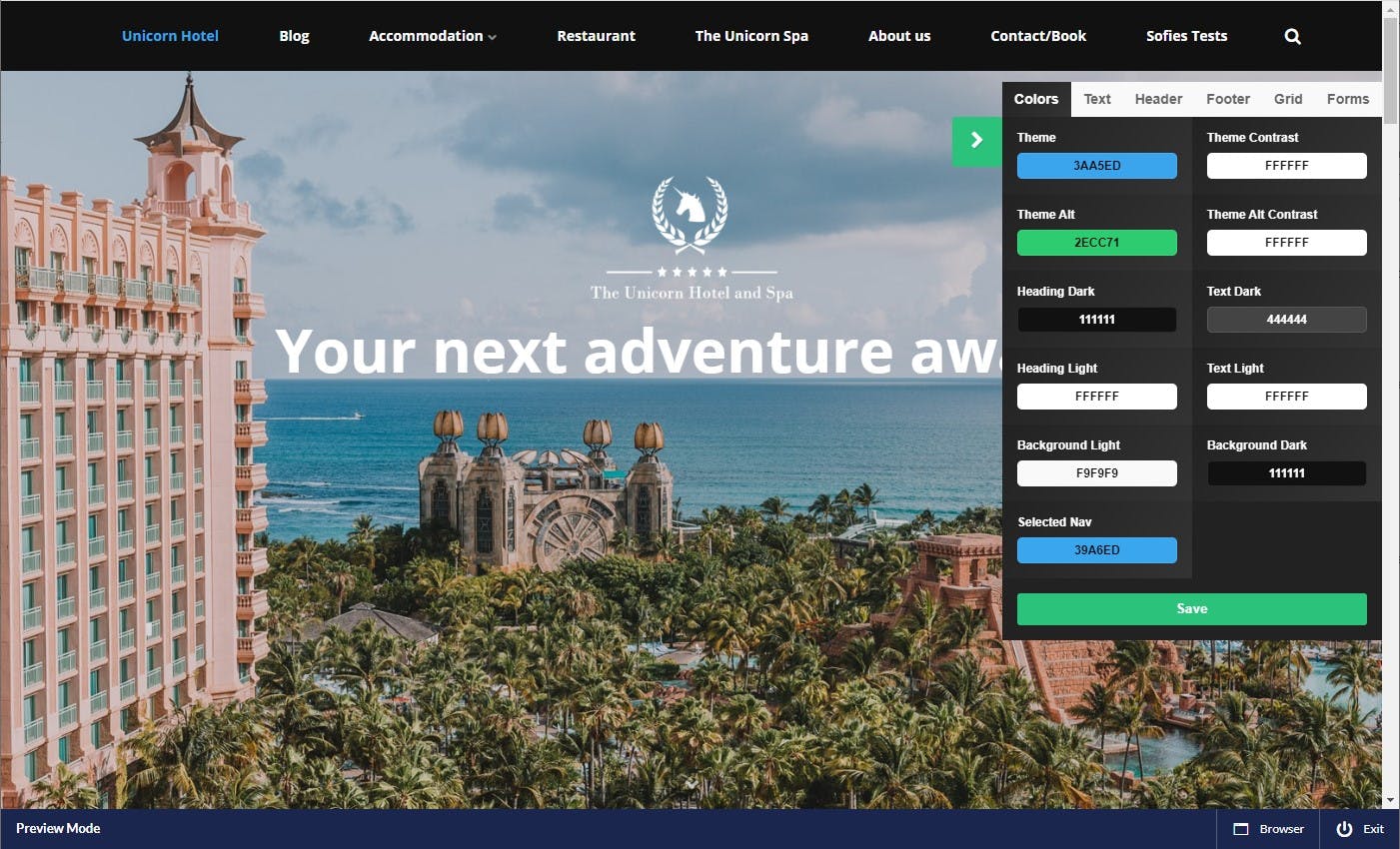 Umbraco is well-known for is their emphasis on creating a platform that is easy and intuitive to use for both developers and content editors alike. Uno continues this trend by taking the existing Umbraco CMS back office and further enhancing it, thereby improving the experience and ease of use for content editors and marketing teams by focusing on a no/low code approach.
It is licensed on a subscription-based model with a number of packages available from starter through to customised enterprise packages. The plan that you need depends on the level of support you require, number of custom domains you wish to apply, the amount of content & assets you intend to create and the anticipated traffic you expect to get to the site.
Is it the right tool for the job?
Deciding if Umbraco Uno is the right solution will of course ultimately come down to your business needs and the specific requirements of your project. However, Umbraco Uno is one of four core products from Umbraco each with their own specific use case(s). Below is a high-level guide of the primary purpose of each platform to help you decide which platform could be best suited to you.
Firstly, there is Umbraco CMS. This is their flagship product which has been developed and iterated on since 2000 and is the base platform that others have been developed around. This option will give the maximum level of flexibility to developers to extend and customise the platform as well as the hosting infrastructure it is deployed to. For example, if you require to integrate with multiple systems, develop complex custom features, multi-site functionality or you require greater control over the hosting environment where you need to distribute data to different regions globally, have more granular control over the security or need a highly available solution that can auto scale to meet large volumes of site traffic.
Then there is Umbraco Cloud, which essentially provides the same "classic" Umbraco CMS and therefore the same level of flexibility to developers on the platform itself. The key difference is that the hosting is all set-up and maintained by Umbraco Managed Services. So, if you need to maintain control over the application and platform, but do not have the capability to provide the ongoing support or the require any granular levels of control of the infrastructure as described above, then this is an option to consider.
Next up is Umbraco Heartcore. Like Uno, this is a SaaS based product with everything you need available out of the box but it is designed as a headless content management solution. Its sole purpose is to manage and expose content and media through managed Restful Apis and a Content Delivery Network (CDN) but does not manage any of the templating or presentational elements of your website. So, if you are looking to just manage content centrally, distribute it in a consistent manner to be consumed and rendered by multiple output channels and devices then this product could help.
So lastly, where does Umbraco Uno fit into all of this? In its current form, if you are looking to create a basic content website, you do not have an in-house technical expertise or agency partner to support you or you are looking to rapidly prototype a website at low cost, then Umbraco Uno is worth considering. It is also worth noting the ability to add custom code and widgets are due to be released shortly (which would require development expertise). This will provide an additional level of flexibility into the platform and as the product evolves further, this could become the default starting point for many Umbraco projects and support a wider array of use cases.
As Umbraco Gold partners we have a huge amount of experience and expertise. If you would like to find out more about Umbraco Uno or any one of the Umbraco products available and would like support in identifying which one might best suit your needs, then please get in touch.